This Cashew Nut Chicken Recipe is a quick and easy to make mid week dinner or Friday night fakeaway.  Its light, flavoursome and easy to recreate at home and comes in at a healthy 400 calories, even with half a cup of steamed jasmine rice to soak up the juices.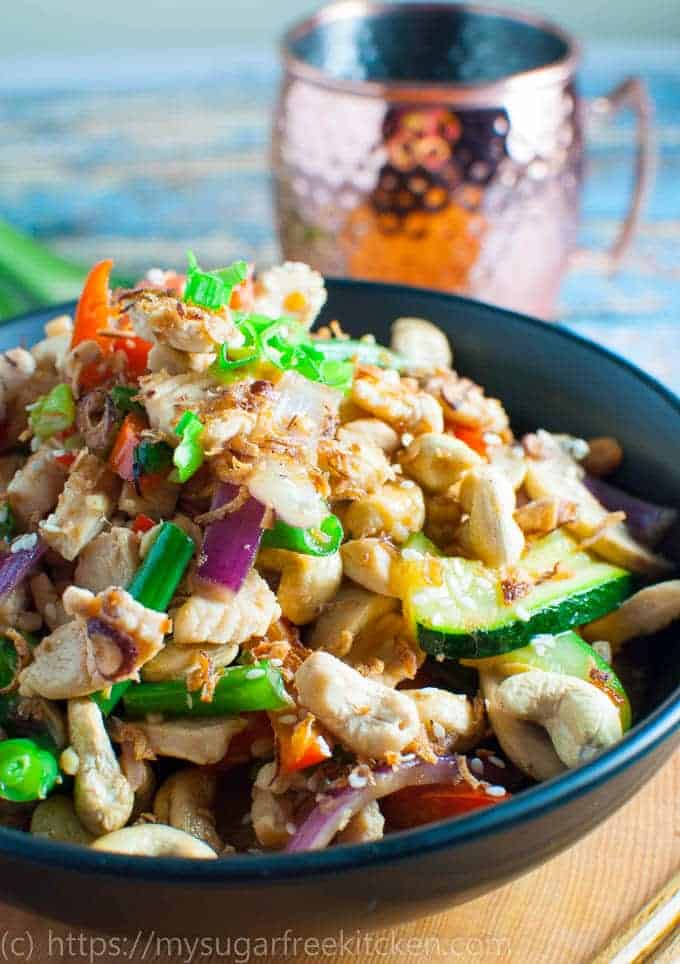 I've been ordering this dish from my local thai takeaway for years.  It seemed like whenever my husband and I decided we wanted Thai for dinner, I would default to one of my two favourite dishes:  Green Chicken Curry, or Cashew Nut Chicken.
I hate to think how much I would have spent on buying this dish over the years if I actually took the time to add it up.  But, I'm so pleased that after a weekend spent dabbling in the kitchen, I have come up with what I think is a pretty close version of the Cashew Nut Chicken Stirfry I have bought many a time.
How did I do it?  Well I think it is all about the sauce and getting the flavours just right.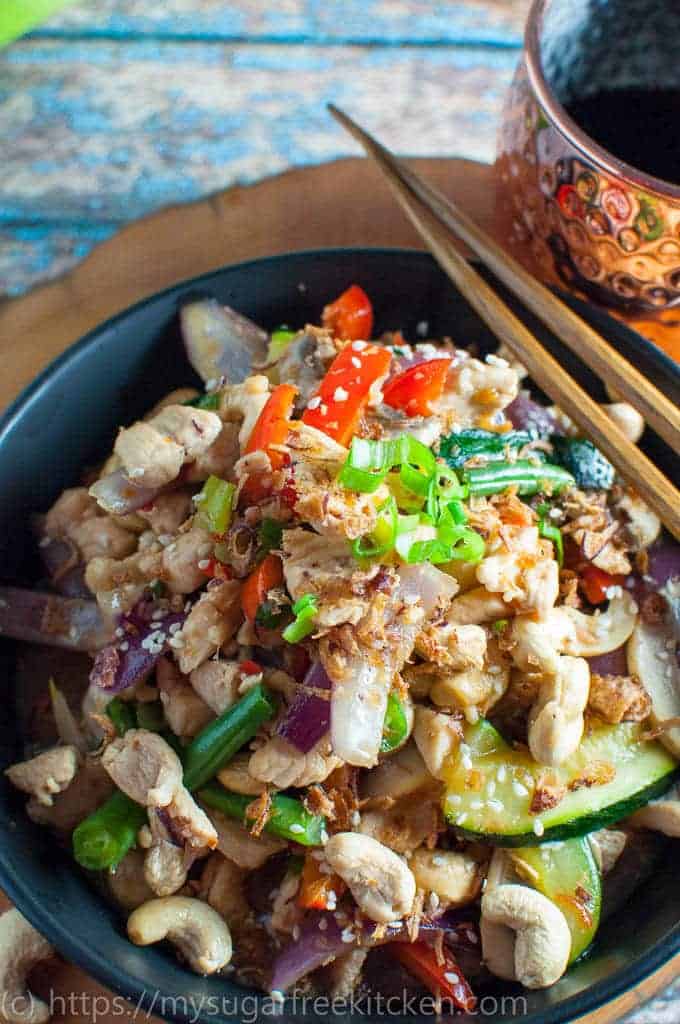 How Do You Make Chicken Cashew Sauce?
I used equal portions of light soy sauce, fish sauce and oyster sauce – this creates the base of the sauce, but it is still to strong and not very pleasant at this stage.
It needs a hit of sweet and a bit of tang.
So in with the equal (lesser) portions of granulated stevia for sweet and lemon for tang.
It's starting to taste good, but there are still two things missing: a chicken stock cube which add depth of flavour and richness and a pinch of salt to make the sauce really come alive!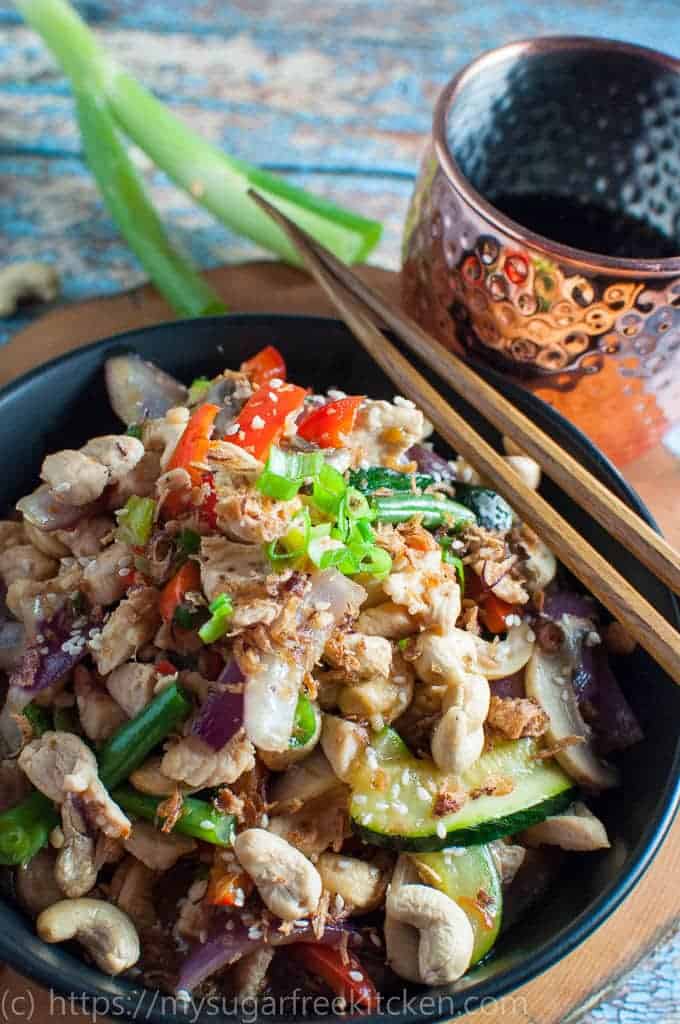 When I started researching a bit more about cashew nut chicken, I was surprised to discover that it's not really Thai at all.  It's actually a Chinese dish.  Either way, Cashew Nut Chicken is always going to be one of my favouites.
Oh another tip for this dish that I think really makes it a stand out is to make sure to lightly roast off the cashews before adding them into the wok right at the end.  The light toasty nutty flavour of the cashews is so much better than putting them in straight from the packet.
This Cashew Nut Chicken is a dish the whole family can enjoy.  Its packed with veges, its healthy and  it's flavoursome without begin too spicy for those that don't like heat.  My recommendation:  Put this homemade Cashew Nut Chicken Stirfry on your Friday Fakeaway list, along with this Chilli Chicken Stirfry with Basil!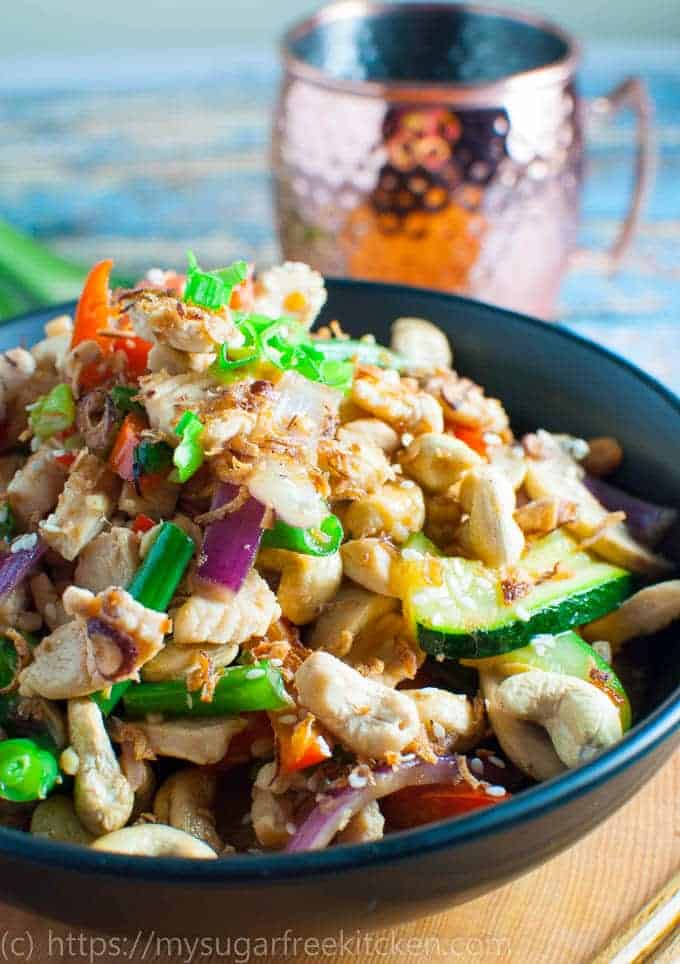 Cashew Nut Chicken
Healthy, quick and on the table in 20 minutes, this cashew nut chicken is perfect to have on your list for quick weeknight meals. Full of punchy flavour, simple ingredients, and lightly roasted cashews to top it off.
Ingredients
300

grams

/ 10 oz. Chicken fillet

(thinly sliced)

2

cloves

Crushed garlic

(or 2 teaspoons garlic from a jar)

1

teaspoon

Peanut Oil

1

medium Chilli

3

medium button mushrooms

1

medium red onion

½

medium Zucchini

½

red capsicum

10

Green beans

1

chicken stock cube or 1 teaspoon chicken stock powder

1

tablespoon

Light Soy or Tamari

(see Note 1)

1

tablespoon

Fish sauce

1

tablespoon

Oyster Sauce

1

teaspoon

Lemon juice

1

teaspoon

Granulated Stevia, that measures like sugar

Pinch of salt

2

tablespoons

Unsalted Cashews, lightly roasted

2

tablespoons

Cornflour

1

tablespoon

Water

½

Jasmine rice

, boiled (to soak up the juices)
Instructions
Heat oven to 180 degrees

Place cashews onto an oven proof tray and heat for a few minutes.

Heat wok with peanut oil on high

Add chicken, garlic and chilli and brown off

Once cooked, take the chicken out of the wok and put in a separate bowl whilst the veges are cooking

Add veges to the wok and stirfry for 3 minutes

Add the stock cube, soy, fish sauce, oyster sauce, lemon juice and stevia and stir through for a minute or two

Add the chicken back into the work and stir through

In a small jug mix the cornflour with the water and add to the wok to thicken the sauce. Stir through. Add the cashews and stir through.

10. Remove from heat and serve with rice and a wedge of lime.
Recipe Notes
Tamari is a form of soy sauce that is a better option generally as it contains lower levels of added sugar than Light Soy.  It is usually found in the health food aisle of most supermarkets.
The granulated sweetener I use is Natvia Stevia Sweetener.  Natvia Stevia Sweetener is a 100% natural sweetener and has 97% fewer calories than sugar.  Its fructose free, low carb and isn't going to rot your teeth!   I wrote a post about it here.
Nutrition Facts
Cashew Nut Chicken
Amount Per Serving
Calories 400
Calories from Fat 90
% Daily Value*
Total Fat 10g 15%
Total Carbohydrates 41g 14%
Protein 40g 80%
* Percent Daily Values are based on a 2000 calorie diet.
© My Sugar Free Kitchen. All images & content are copyright protected. Please do not use my images without prior permission. If you want to republish this recipe, please re-write the recipe in your own words, or link back to this post for the recipe.