Hi I'm Kim, the blogger, cook and photographer behind My Sugar Free Kitchen.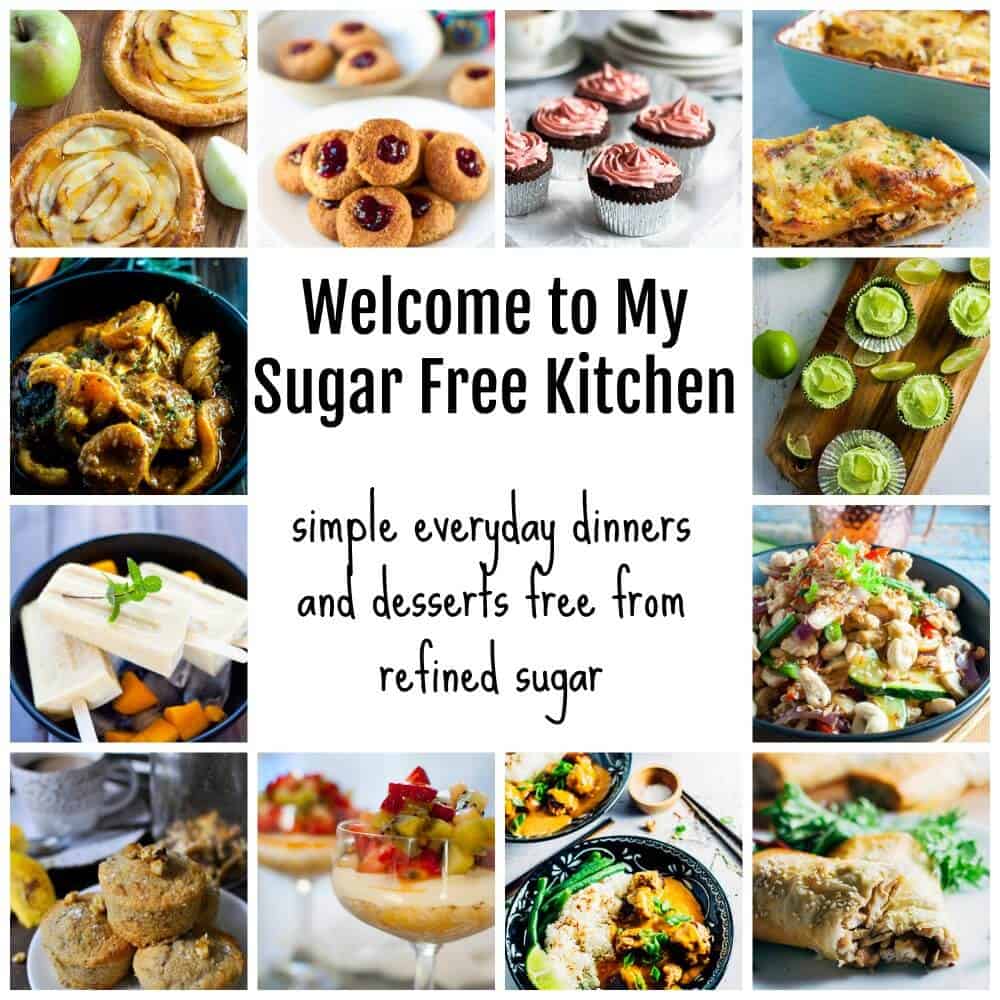 I live on the Sunshine Coast in sunny Queensland, Australia with my husband and our cheeky, and totally adorable Staffordshire terrier who I just can't seem to say no too.
This blog is about my passion for food and my love of being in the kitchen creating everyday sweet and savoury recipes free from refined sugar.
It's been my experience that only when you start paying attention to food packaging labels that you realise just how often sugar makes the top three ingredients.
This blog shows you how simple it can be to eat amazing food using natural, unrefined sugar alternatives…so  you can eat the sweet things in life and not feel guilty.
I don't believe in spending hours in the kitchen, but I do like to create food that is healthy, delicious, comforting and has bags of flavour, without the added sugars.
This means easy sugar free dinners and desserts that keep you fuller for longer, reduce cravings, and give you more energy.
Think: healthy and quick dinners for midweek meals, healthy comfort foods to make ahead and freeze, and waistline friendly sweet treats without the added sugar or the guilt.
If crave comfort food with a healthy spin, have an incurable sweet tooth and can't go without your after dinner treats or your 3pm munchies, and yearn for the day when you can put your cravings back in their box, you're have arrived at the right place.
WHAT YOU'LL FIND ON MY BLOG
Simple, full flavoured dinner meals using fresh ingredients
Takeout favourites with a healthy twist and without the added sugars
Delicious make ahead recipes that you can make in the Oven, Pressure Cooker or Slow Cooker
Healthy and exciting seafood recipes that are easy to make. Because I love, love, love Seafood.
Dinners for two because date nights matter and deserve and amazing nosh.
Dinners that are between 400 and 500 calories because I understand that sometimes you just want something awesome tasting, and awesomely low calorie.
Sugar free desserts that don't taste sugar free (naturally sweetened with stevia)
Portable snacks to take to work or to eat on the go (also sweetened with stevia)
Recipes that I have made many times and have eaten time and time again. If a recipe does not pass my strict standards, it does not go onto my blog.
Recipes with nutritional information calculated via the My Fitness Pal app.
WHAT YOU WON'T FIND ON MY BLOG
I don't follow any particular diet, except to say that I cook and eat sugar free 90% of the time.
I do not buy bottled pre made recipe bases.
I don't use splenda, honey, agave syrup, pure maple syrup or rice malt syrup in any of my recipes
I avoid bland, boring and tasteless. I like lots of flavour.  In Everything.
I also avoid complicated recipes. Mostly because I can't be bothered.  I want it to be easy and I want to enjoy doing it, so its uncomplicated all the way.
You can read more about my story here
Before I go, I want to say a sincere thank you for visiting my blog and for starting your discovery into the world of healthy, delicious and flavour packed sugar free dinners and desserts.
Or, why not follow me on Pinterest to get inspiration and ideas for meal planning and getting into those awesome eating habits
Or, maybe you're more into Instagram.  I'm there too.
Then again, if Facebook is where you're at, you can get all the latest posts straight to your feed.