Hi, I'm Kim and My Sugar Free Kitchen is a site dedicated to helping busy couples create healthy and quick dinners for midweek meals, healthy comfort foods to make ahead and freeze, and waistline friendly sweet treats without the sugar.
If crave comfort food with a healthy spin, have an incurable sweet tooth and can't go without your after dinner treats or your 3pm munchies, and yearn for the day when you can put your cravings back in their box, you're have arrived at the right place.
If I were a betting kind of gal, I'd bet you're a busy working professional who struggles with low energy, eating too much processed food, constant snacking, and cravings for all manner of things sweet.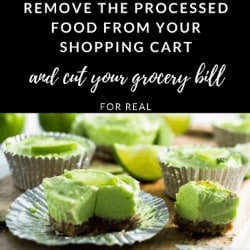 Your eating habits probably leave you feeling crappy, your clothes are a bit on the tight side, you don't have enough energy to exercise and all you can think about is where your next sweet fix is coming from.
Over the years, you've probably dabbled a bit in the kitchen, but if you're honest about it, you're not that into it and it's more of a chore than something you actually enjoy.  You eat more things out of boxes than you care to admit, fruit and veges are a "sometimes" thing and chocolate, wine and ice cream have lately become more of an "everyday" thing.
You probably almost always get the latest flu bug, are constantly surprised and maybe even anxious at the amount you spend on groceries and how little you get for it, and you secretly worry that a lot of the stuff in your trolley is making you fat and doing who knows what damage to your body.
You want to be healthy with habits that help you to feel and look your best, but the pull of the cravings are just so strong, and lets be honest, you're a bit stuck on where to start.
What if you could spend less on groceries?
What if you could stop the uncontrollable sugar cravings?
What if you could retrain your tastebuds to hate processed sugars?
What if, you could avoid afternoon sugar slumps, mood swings and brain fog?
What if you could feel healthier, more vibrant and energised?
What if you could take steps now to prevent the onset of type 2 diabeties later in life?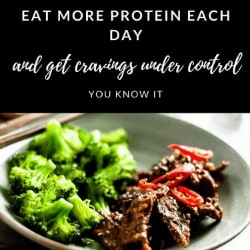 It is possible.  The key is to start with small changes, and be consistent about the new choices you are making.  Small changes will add up over time to create a shift to a new way of eating and thinking about food.
I want you to be able to come home after a busy day at work and know that you can have a healthy sugar free meal on the table in under 30 minutes.
I want you to be able to indulge in a healthy treat, not because you're cravings are driving you crazy and you need something to take the edge off, but because you know you can stop at just one and you will be satisfied.
I want you to go from eating dinner out of a box most nights to eating fresh simple home made Dinners every night.
I want you to be able to get up in the morning and spend 3 minutes packing a healthy nutritious lunch with tasty and healthy snacks that you can dream about in your morning meeting.
I want you to go from eating store bought takeaway 3 or 4 times a week to recreating your own healthy versions of your takeaway faves at home.
I want you to go from eating toast after a big day at work because there is nothing in the house to having a freezer stocked with healthy home made meals on tap to help you stay on track.
Just imagine if you could control your cravings.  They don't control you.  It is possible.  I've done it.  Here are some of the ways to keep cravings in their box and healthy eating habits top of mind.
Instead of eating awful processed sugary things at the office morning tea, bake your own, and blow them away with summery sugar free lemon bars, sugar free banana bread or coconut jam drops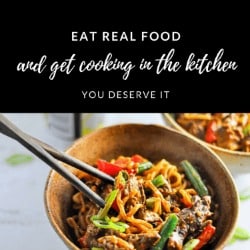 Instead of hitting the vending machine at 3pm on a Wednesday, spend an hour on Sunday afternoon whipping up some sugar free banana muffins, sugar free gingerbread, or sugar free apple, cinnamon and ginger muffins
Instead of buying lunch, keep your money in your pocket, make Chicken Cashew Nut for dinner the night before and have the leftovers for lunch. Lunch sorted.
Instead of reaching for a cardboard box out of the freezer when come home from the gym after work, get dinner on the table in 30 minutes and devour this Chilli, Basil and Chicken Stirfry.
Instead of sitting in front of the box on a Sunday afternoon, get crafty in the kitchen with making a few freezer meals like this chicken tikka masala or good old fashioned lasagne so you're not tempted to go through the drive through on the way home from work
Instead of blowing dosh you don't have on average tasting takeaway on a Friday night, keep your dosh, and go healthy with Friday Night Fakeaways like this Garlic Prawn Pizza, or this grown up Spicy Salami and Pineapple Lebanese Bread Pizza.
And of course the really important ones…
Instead of reaching for the bowl bucket of ice cream after dinner, spend one night a week with someone special to whip up healthy desserts on tap, perfectly portion controlled, sugar free and so ridiculously good, you'd be hard pressed to tell they are good for you.  Think chocolate cashew nut cups, healthy bounty bars and sugar free caramel slice bites.
I like having foods in my life that I enjoy, so I use natural sweeteners like Natvia Stevia Sweetener, Norbu or dates and I've also been mindful of creating recipes that are low to moderate in calories.  This helps me to keep my weight under control and to indulge in "sometimes" food more often. In this, I have found my "sweet spot"where I can love my food and know that my body is thanking me for it.
Transforming years of bad eating habits doesn't have to be a drag, a bore or overwhelming.  And life doesn't have to suck because it has less sugar in it.  All it takes is Introducing some sugar free Dinners, Desserts and Snacks into your regular weekly meal planning to see the difference small steps can make.  As with all things, they key is consistency.  Making smarter food choices on a regular basis.
It's a lifestyle, not a chore.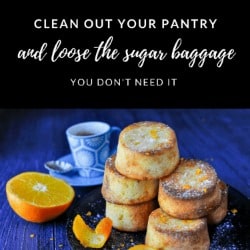 I know because I did it.  In fact I have been doing it for over 10 years and I believe it's the main reason I hardly every get sick and why I can still wear skinny jeans and feel good about it.  Of course I'll always have a sweet tooth and I still love my comfort foods. Now, I just think differently about how I can satisfy those cravings in a more healthier way.  Not only can I feel the difference, I know the difference it has made to my overall longer term health.
You can read more about my story here
Before I go, I want to say a sincere thank you for visiting my blog and I'd love for you to join me in this healthy habits sugar free journey.
You can get all my latest recipes, tips and words of wisdom on how to get more sugar free into your life by signing up to my mailing list.  No spam, just real stuff that's actually useful.
Or, why not follow me on Pinterest to get inspiration and ideas for meal planning and getting into those awesome eating habits
Or, maybe you're more into Instagram.  I'm there too.
Then again, if Facebook is where you're at, you can get all the latest posts straight to your feed.