This Hot and Sour  Pork With Coconut Rice is a recipe I had very high expectations of, partly because I was trying to recreate it from a meal I had about six months ago at a local restaurant.  I wanted to create a dish that was easy, and utterly moreish.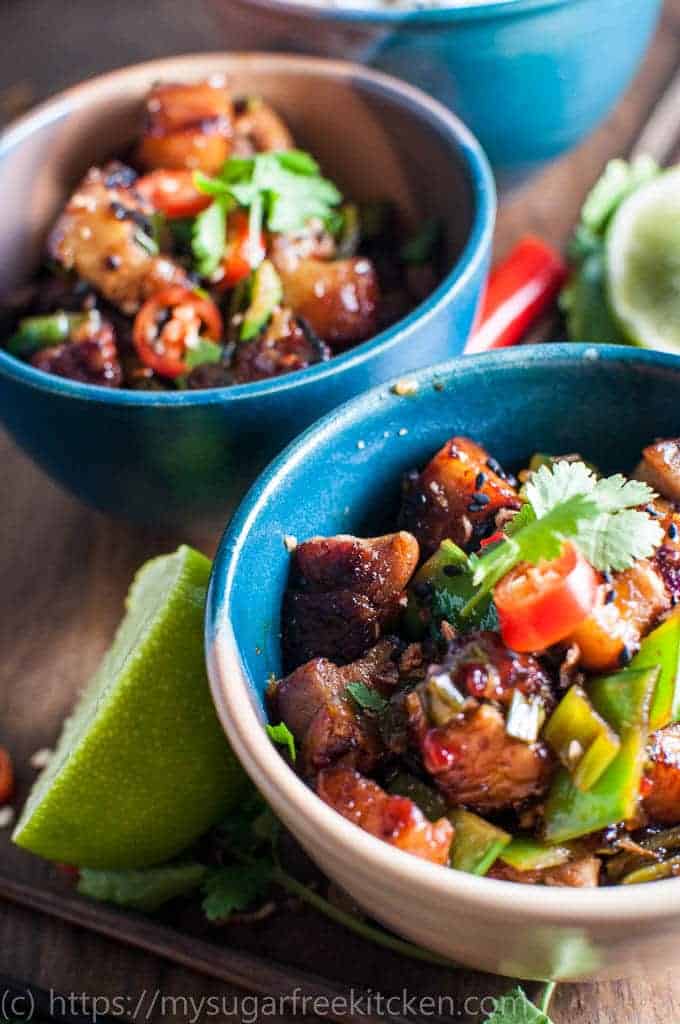 I think I might of just blown my expectations out of the water!  This sweet and sour pork dish is one where I wanted to keep on eating and eating until I could eat no more – it just has that combination of flavours that are sweet, sour, and salty all at once.  However, it is also a very rich dish, and the coconut rice is a must to have with it as the creaminess of the coconut from the rice really cuts through the strong powerful flavours of the pork.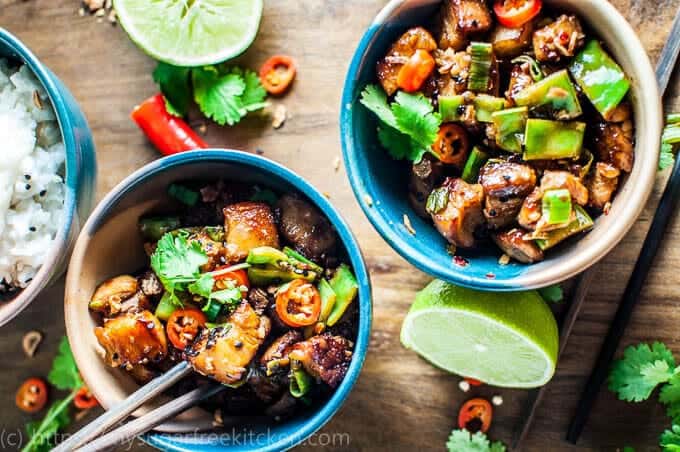 I had been planning to make this dish for quite a while but I just couldn't work out how to recreate it.  But with a bit of trusty kitchen dabbling, some trial and error, I arrived at a dish that I would happily make again.  I made this dish on a Sunday night and the anticipation had been building all day, from the buying of the pork earlier in the day, the braising, and then the frying off, not to mention the creamy coconut rice!
With a simply prepared table, dinner was plated and served and Mr t dug in.  I eagerly awaited his critique of my dish.  Whilst he gave me some positive comments and declared he was a fan, he casually kind of mentioned, it had a tiny bit too much of "sour".  Mind you, though he still devoured his entire portion and some of my leftovers.  He gently "suggested" that perhaps when I make it next time, I could put slightly less lime juice in!  A little disappointed that it wasn't a 20 out of 10, I felt that I still had a winner on my hands!
Looking for some other healthy asian flavours?  Check out some of these for mid week inspiration: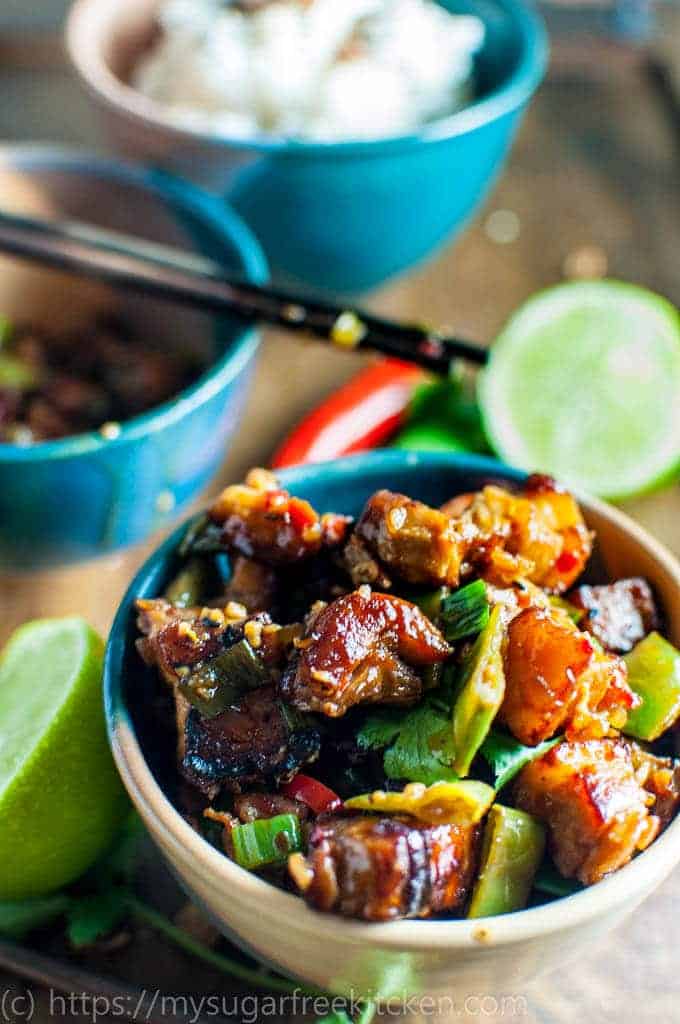 I think too that this brought me to the conclusion that this is a dish that you really must taste while you cook it, especially when you are saucing the meat in the stirfrying.  The truth is, I actually thought the sauce was spot on.  But I realise that whilst it was spot on for my palate, it may need some minor adjustment if you like a little or more sour, sweet, or salty!
So, I have given the recipe below as I made it, which I loved, but you may want to taste the sauce and adjust the sweet, salty and sour flavours to your taste.  Maybe like me, you will think it perfect, just as I made it!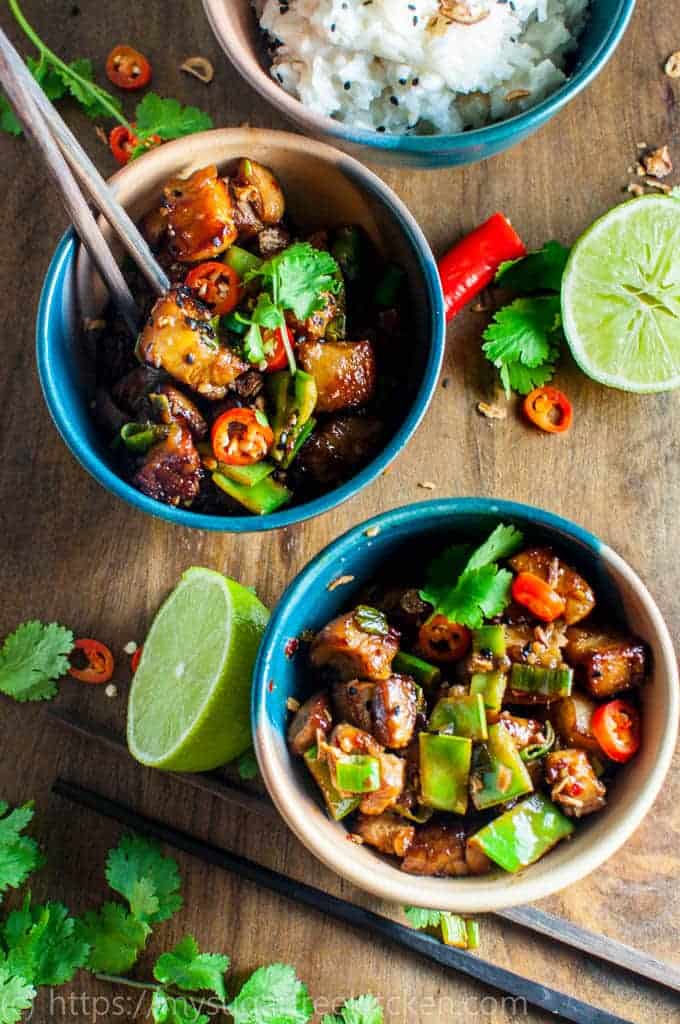 My sweet and sour sticky pork is a dish that leaves such a memorable impression and is so completely satisfying I think it is a dish to be enjoyed when you feel like something a little special!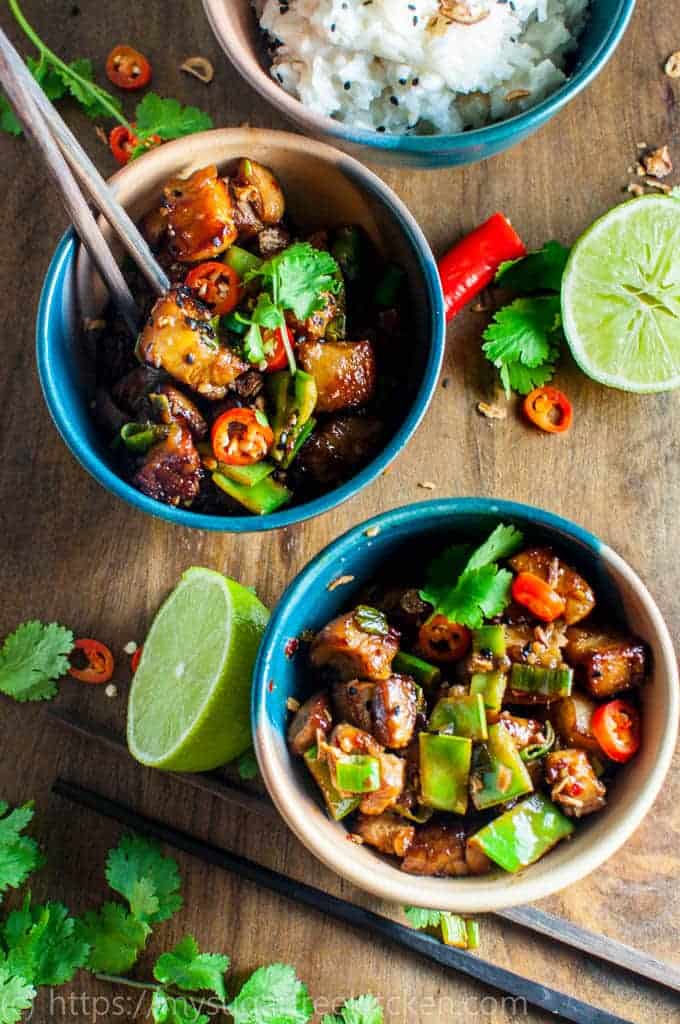 Hot and Sour Pork with Creamy Coconut Rice
This dish packs a punch with sweet, sour and salty, giving it a "hot and sour" burst of flavour that tingles your palate with every mouthful. You'll want to eat more, but trust your significant other when they say its time to stop!
Ingredients
Pork
500

grams

/ 1 lb. Pork

, cut into cubes

500

ml

Beef Stock

1

teaspoon

Crushed garlic

1

teaspoon

Minced ginger paste

1

Shallot

1

teaspoon

Shaoxing Chinese Wine

1

teaspoon

Sugar free Maple Syrup
Hot and Sour Sauce
2

medium Chillies

1

teaspoon

Crushed Garlic

1/2

medium Onion

, finely diced

1/3

cup

Fish Sauce

1/4

cup

Fresh lime juice

1/4

cup

Sugar free Maple Syrup
Coconut Rice
1/2

cup

Jasmine rice

400

ml

Light coconut milk

1/2

cup

Water

1

teaspoon

granulated stevia, that measures like sugar

(Note 1)

Pinch salt
Instructions
Tenderise the pork: in a medium saucepan add all the ingredients for the pork. Bring to the boil and simmer for 2 hours.

After 2 hours, drain pork and set aside.

Place ingredients for hot and sour sauce in a bowl and whisk to combine.

Prepare the rice: In a medium saucepan, add all the ingredients for the coconut rice. Cook on a medium heat and stir occasionally. It generally takes about 20 minutes or so. You are aiming for a rich creamy, slight gluggy rice to offset the richness of the pork and the hot and sour sauce.

Fry off the pork: In a hot work, fry off pork to caramalised and it crisps up.

Slowly add the sauce, a bit at a time, until you have enough "stickiness". The sauce will thicken naturally on its own as its is added to the pan, but it is best to add gradually so you get the thickness and stickiness of sauce you want.
Recipe Notes
The granulated sweetener I use is Natvia Stevia Sweetener.  Natvia Stevia Sweetener is a 100% natural sweetener and has 97% fewer calories than sugar.  Its fructose free, low carb and isn't going to rot your teeth!   I wrote a post about it here.
Instead of coconut rice, you could make ordinary steamed jasmine rice, although I do find that the creamy coconut of the rich is needed to cut through the rich flavours of the sticky pork. This dish is perfect for a dinner party entrée, or as a tapas share style as it is quite rich and you don't need a huge bowl of it.
Nutrition Facts
Hot and Sour Pork with Creamy Coconut Rice
Amount Per Serving
Calories 490
Calories from Fat 198
% Daily Value*
Total Fat 22g 34%
Total Carbohydrates 41g 14%
Protein 37g 74%
* Percent Daily Values are based on a 2000 calorie diet.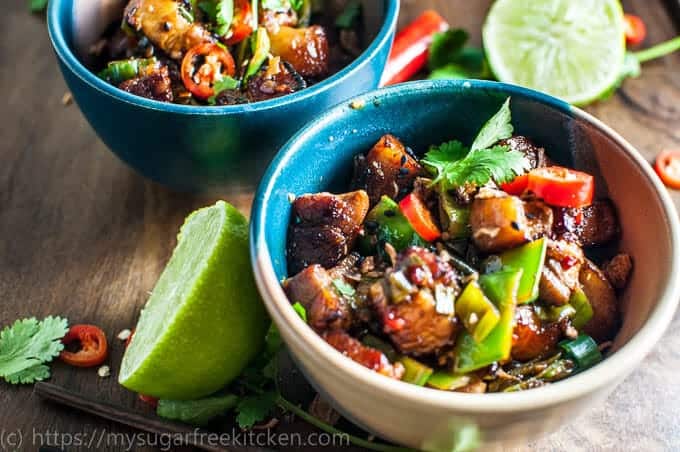 © My Sugar Free Kitchen. All images & content are copyright protected. Please do not use my images without prior permission. If you want to republish this recipe, please re-write the recipe in your own words, or link back to this post for the recipe.