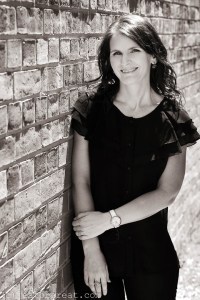 I am Kim and I love spending time in the kitchen whipping up good old fashioned comfort food without the guilt and without the calories.
But First, let me be straight up and say that I haven't quit sugar and I'm not about trying to quit sugar.
Say What?  Isn't your website called My Sugar Free Kitchen I hear you say.
Yeah well, I thought about it, several times actually, and I have gone through bursts of being completely sugar free for a week, or two weeks, but it just doesn't stick.
Here's the thing.  I'm really passionate about healthy eating and I want to be better at getting sugar out of my diet because I know it's no good for my body or my brain.  But I have to be honest and say that I still have not yet eliminated the sugar beast and sometimes I succumb.
Most of the time though, I can manage a relatively sugar free/low sugar diet and lifestyle and this blog helps to keep me accountable and keeps things interesting too as I continuously search for ways to healthify and lighten up my favourite comfort foods.
What You'll Find Here
I focus on making dinners, desserts and snacks that are healthy, light, uncomplicated and delicious!  Sugar Free.  Sweetened with Stevia.
Dinner Time!
I'm a little obsessed with Japanese, Thai, and Mexican cuisine and love giving my favourite take out classics a healthy makeover, substituting in more natural ingredients for sweetness.   I don't want to give up my take away faves, but I don't want the sugar or the calories either!
I'm also Inspired to recreate lightened up and healthy versions of dishes that my mum and gran used to make.  I have such vivid memories of some of these dishes, but I know they weren't as healthy as they could be!
Snack Time!
I need to eat 6 smaller meals a day, so to keep the hangries as bay I have to have plenty of healthy snacks on hand.  So my other focus is on creating easy and healthy snacks for the working week so when the munchies hit I have no excuses for not eating healthy!
Dessert Time!
I also have a bit of a sweet tooth thanks to my mum, which means I often have to have dessert shortly after I finish Dinner, but I'm on a mission to make these indulgences as healthy as possible, swapping out the sugar for alternative sweeteners.
These are the driving forces behind why I make the recipes I do.  I want to eat what I love and enjoy, minus the sugar highs, the sugar lows and the foggy brain!

On a Personal Note
I've  experienced hectic capital city living for over a decade as a busy working professional and FIFO wife.  Crowds, Commutes and Queues seem never-ending and its always go-go-go!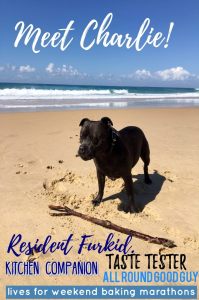 These days I'm an IT Professional by day, passionate food blogger by night.  Some might say I am slightly obsessed with it, blogging that is, not the other thing.  For me it is the perfect blend of creativity and geekery!
Now, you might have noticed the four legged boy on this page.  His name is Charlie and he is the resident furkid at My Sugar Free Kitchen.
He lives for big kitchen cooking days, especially those involving some kind of meat.
He also adores photography shoots so he can get his best poses on camera and be rewarded with some tasty treat.
My husband, Terry is Chief Taste Tester.
He loves all the sweet things I make, even when I don't.  Yes, he even loves my failures.  Thank goodness for husbands.
He relishes tasting new things I haven't made before and I suspect is often kinder in his review than the thing actually deserves.  Thank goodness for husbands.
He even washes up my messes.  Even when I have used almost every gadget in the house.  Thank goodness for husbands.
Food has been a long time passion of mine and this here little blog is a place to share my best healthy lightened up comfort food recipes.
From My Kitchen to Your Kitchen.